The Egg Hunt has begun on The Sims Mobile, complete these tasks to find all the eggs before the time is up!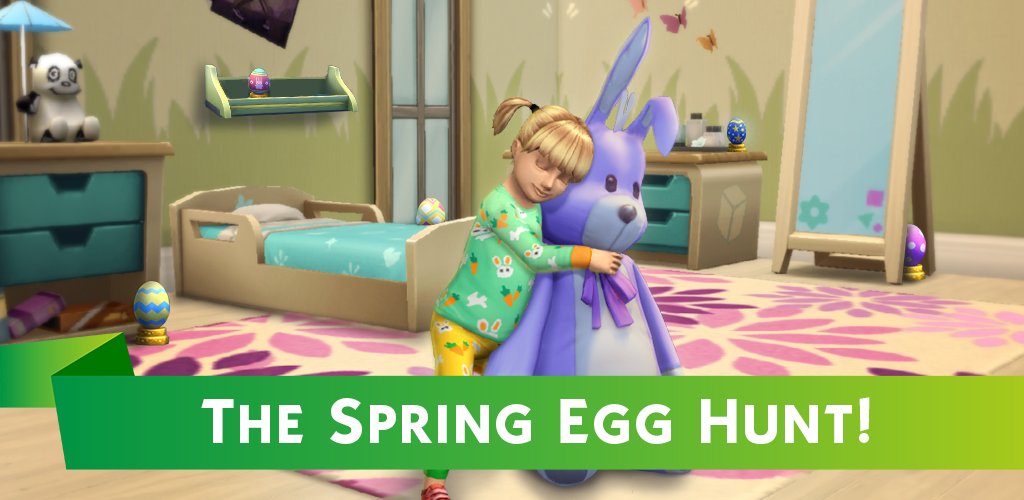 If you find all the eggs and complete all the tasks you will unlock the bunny toy pictured above!
Spring cleaning time! Search for the egg shelf behind the couch- 10 seconds
Unlocks the Cracking Good Shelf:
Spread some spring spirit! Give out 3 stickers (give stickers to sims with blue plumbobs above their head)
Someone must know about the eggs. Complete 2 relationship events (select start event on another sim twice)
Unlocks the Jelly Bean Dot Egg:
This hunt is getting a bit hare-y. Taking a quick nap should help (select dream about hidden eggs on a bed)- 10 seconds
Was that an egg at work? Search for it by completing 3 career events
Unlocks the Skippy Zigzag Egg:
Party Time? Egg-cellent! Hop over to a party- (attend a party)
Rumour has it that earning 10 Sim Tickets will help your quest (complete relationship events to earn)
Unlocks the Springtime Stars Egg:
3 eggs down, 2 to go. Reflect on your progress at a vanity mirror (bathroom sink vanity)- 10 seconds
This egg hunt is taking its toll, let's earn some Simoleons!- earn 200 simoleons by completing events
Unlocks the Pastel Diamond Egg:
It's time to grow your network. Start 3 new friendly relationships (select friendly introduction and then on begin a friendship click start event)
Let's give out 3 more stickers, maybe someone will know about the last egg
Incubate some relationships. Complete 2 relationship story chapters (complete events until you get the option to start next story chapter twice)
Unlocks the Bunny Hop Egg:
Egg-ceptional work! Time to admire all of the decorated eggs (once placed on the shelf click on all 5 of the eggs and click admire decorated egg)- 4 seconds
Hopportunity knocks. Complete 2 career story chapters (complete career events until you get the option to start next story chapter twice)
Unlocks Bun Bun the Bunny toy decoration:
QUEST IS COMPLETE!
You can find the shelf and eggs in your storage section as you unlock them, you can then place the eggs on the shelf:
Although this quest was easy to complete I found it fairly disappointing, the Hot Tub one was a nightmare with the repeated rewards but at least there was more of a reward to aim for. In future I would like to see more information from the creators on the game about these events as I didn't know if I was just completing goals to earn the eggs or if there some other prize at the end of it all.
Thanks for reading!
---
Find the game confusing? Check out my FAQs here
© COPYRIGHT PROTECTED